HOST A FESTIVAL
A math festival is a one-time event where children gather and explore math through puzzles. Our festivals are hosted by volunteers like you. We have all the resources you need to host a festival, including a free consultation to get you started.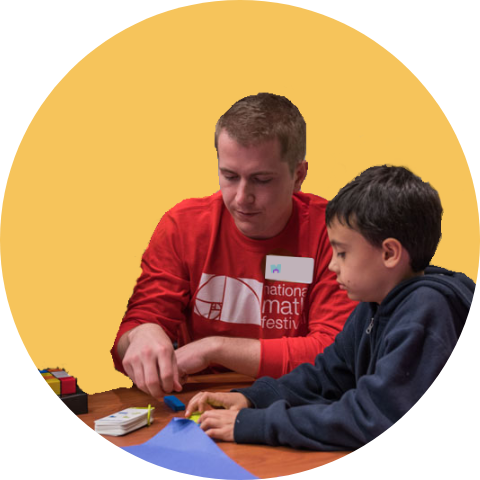 Choice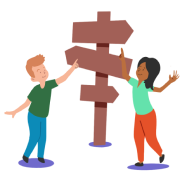 Empower kids to choose their own path of discovery.
Engagement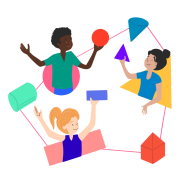 Provide kids with a variety of activities they will be eager to learn.
Collaboration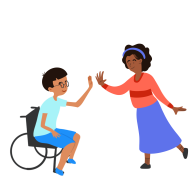 Everyone works together to celebrate math.
What It Takes to Host a Festival
Where?
In person or virtually over Zoom or Google Meet!
How much?
$0-500, depending on the size and types of activities you choose.
Prep time?
2-20 hours, depending on the festival model you choose.
STEPS TO HOST
A FESTIVAL
Don't forget to download our free DIY Festival Planner below.
JRMF offers a free, personal consultation for you while planning your math festival. We will share resources, help you plan a festival for your individual needs, and answer any questions you may have.
The first step to planning your math festival is to find a venue. 
The optimal math festival location is a large space with room for walking around, like an auditorium or cafeteria. You will also need easy access to multiple chairs; this is where students will engage in JRMF activities. It is also ideal to set aside some free space for our always-popular walking puzzles, which you can purchase from our store.
Register Your Event with Us
Once you have determined your venue, date and time, the next step is to register your festival with us.
We'll review your information and approve the details. Then you will receive an email including the event web page for you to share with your network. We will also create a host-only attendee check-in page for you to see who has signed up to attend your event.
We recommend 1 volunteer for every 6 children.
These volunteers, or "activity leaders," are a vital component of a math festival. These are the people who engage the children in the activities and guide their math exploration. A math background is great, but should not be a deciding factor in choosing activity leaders.
Rather, you want to ensure the people who volunteer enjoy working with children, are patient, and good at listening.
JRMF offers a variety of resources to help you recruit and train volunteers. Check out our training services or download our DIY Festival Planner for all the resources!
Choose the Math Activities
We offer more than two dozen free printable puzzles and share the suggested manipulatives to make math come alive for kids. JRMF puzzles are unique compared to other math games you'll find. We design problems with low floors so everyone can get started by the simple act of trying something and with high ceilings that lead to challenging mathematics.
We make marketing your math festival as easy as 1, 2, 3. We provide the registration links, web page, attendee check-in, and marketing materials you'll need to spread the word and excitement about your Julia Robinson Mathematics Festival.
Download our DIY math festival planner for all resources you'll need.
Download our (free!) DIY Festival Planner
"When I asked my 8 year old if he wanted to go to a math festival, I got a rather tepid, "Um… maybe? How long is it?" When I told him 1 hour and 45 minutes, he was like, "What???!! That's almost two hours of my life wasted on MATH!"
We asked some friends to come along, and we ended up staying until we got booted out at the end of the event.
Total success."